Looking for a dog-friendly alarm system in Gainesville?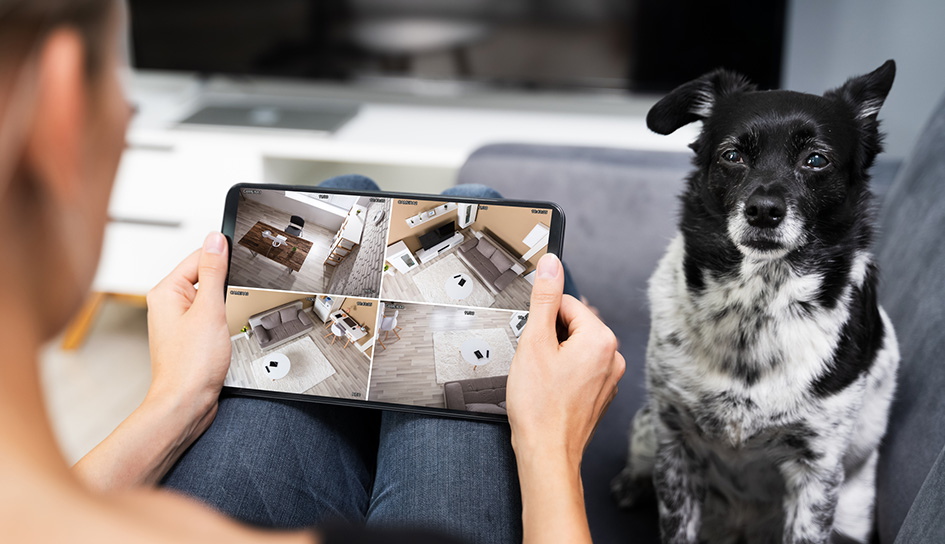 The loyal companionship and joy a dog delivers to your house in Gainesville truly makes them an integral part of your family. With that in mind, some furry friends have been known to trip a sensor on various home security systems. And it stands to reason that the more substantial your dog is, the greater the likelihood they may be the source of a false alarm. So don't you think it would be nice if you had access to a dog-friendly alarm system in Gainesville?
A perfect fit for families with dogs, Vivint smart homes give you a multitude of benefits. First of all, you may adjust the sensors to disregard locations where pets typically roam. Second, make use of your indoor video cameras with high-def night vision and motion sensing functionality to keep an eye on your animals. Third, your dog-friendly alarm system should be simple to interact with so you are able to swiftly arm and disarm your property's security as you need.
Set your sensors to avoid pets
Current window, door, and motion sensors are more accommodating to pets than past options. Cats and smaller dogs shouldn't have any issue avoiding an unintentional triggering of the sensor, as the system are capable of adjusting. More sizable dogs and exuberant pets will have an increased possibility of false alarms, but there are ways you can decrease that likelihood with a few modifications on the Vivint mobile app.
Adjust the motion detection sensitivity to low. You are also able to alter the range of the device.
Install motion detection devices away from frequented places, like a pet's preferred sleeping place or feeding area.
Disengage your alarms with your cell phone app before you pull in the driveway -- specifically if your dog likes to leap toward your front door or nearby windows when you walk up the front steps.
Set a smart light to activate to relax an uneasy dog at night.
The capability of handling these modifications is why Vivint is the best pet-friendly home security system in Gainesville.
Utilize your indoor video cams to see what's going on with your dog
Indoor surveillance systems with two-way talk are an easy method for homeowners to check on their furry friends while away from home via your intuitive mobile app. Your surveillance devices can even pick up your pet in low-light situations in full high definition, so you may see what is transpiring downstairs without even leaving your room. In the event your video components notice unexpected movements, you may have a video snippet sent to your phone to determine if it's your dog or a burglar.
Anxious behavior is fairly normal for dogs and if that's the case with your four-legged friend, Vivint video equipment may be beneficial to you. When you observe them beginning to get uneasy, speak to them via the camera's speaker. They will detect your speech and know that it's all right. Additionally, if you discover that they are troubled with the onset of a storm, you may remotely activate a smart bulb to make the scene less scary.
The best dog-friendly home security system in Gainesville is a breeze to operate
The many dog-friendly features are great, but they wouldn't mean all that much if they were hard to manage. The nice part about a smart home package like Vivint's is that all your controls are both on your smart hub and your cell phone app. Go ahead and arrange your alarms around your unique household -- including the dogs! All it requires is a few button taps and you have your whole system the way you want it.
Customize your Vivint pet-friendly security system today!
Your home protection package shouldn't have to be an ordeal for your dogs. Instead, it should offer an enhanced level of security while helping you look out for your animal companions. Dial (352) 922-3696 or complete the form on this page today!
Communities Served Around Gainesville By Smart Security Specialists Your Local Vivint Authorized Dealer